UYAP is an e-justice system as a part of the e-government, which has been developed in order to ensure fast, reliable, soundly operated and accurate judicial system. As a central network project it includes all of the courts, public prosecutors services, prisons, other judicial institutions and other government departments in Turkey. UYAP, the most outstanding information system in Turkey, was prepared and established by MoJ to improve the functioning and efficiency of the judiciary and to create an effective and less bureaucratic judicial system for each concerned institutions and citizens.
UYAP was awarded for annual e government prize of Turkey in 2004 , 2005 and 2008  because of making significant breaktrough in Turkish judiciary. In 2008, UYAP has received a special mention in ''Crystal Scales of Justice'' awards which is organised by the Council of Europe and the European Commission. UYAP has received an golden medal in computersworld honors programme done in Washington DC.  And  honored as one of the five best e-government project in the world in 01.06.2009
The Turkish Constitution sets out in Art. 2 that the Republic of Turkey is a democratic, secular and social state governed by the rule of law. And under Art. 36, everyone has the right to a legal remedy either as plaintiff or defendant and the right to a fair trial before the courts. In view of the above provisions, it may be said that the Turkish state has a duty to establish an effective mechanism for the realization of access to justice. 
 The employees, who work in judicial section, have being used very old technologies. Cases have being drived to long in the scales. It has being taken up long  time to come to a conclusion the cases. The problems faced by the judiciary are complex, ranging from the enormous workload, inadequate training, information and monitoring.  Legal procedures were complicated and disorganized. It must be carried out a reform on judicial sector in Turkey.
 e-Transformation Turkey " on the way to Information Society" . To clarify the objectives and principles of the project, a Prime Minister's Circular, dated February 27, 2003 has been issued. According to this Circular, the objectives of e-Transformation Project are as follows:
The Accession Partnership with Turkey was adopted on 8 March 2001, and the Government of Turkey prepared a National Plan for the Adoption of the Acquis (NPAA) to achieve the objectives stated in the Accession Partnership. Modernisation of justice and penal reform are included as fundamental priorities in the Accession Partnership and in the NPAA. In the course of progress towards accession to the European Union and in response to the obligations of the acquis of the EU and its Member States, the Turkish government, is actively following a National Programme for the Adoption of the Acquis. However the objective of the process of law approximation is to not only implement the relevant amendments to existing legislation but as importantly, to strengthen those institutions responsible for the enforcement or implementation of the new procedures and processes.
Thus UYAP  establish an electronic network covering all Courts, Offices of Public Prosecutors and Law Enforcement Offices together with the Central Organization of the Ministry of Justice in order to realize these aims.
PHASES
 The project was started in 2000 and it was completed by the end of 2007. UYAP has been planned in two phases:
  First, the central organization in Ankara: The first phase's objective is automating the procedures of the central organization of the Ministry and its subordinate units. This stage has been completed in 2002.
 Second, the countrywide organization Automation of the UYAP Provincial Units: Second phase of the project was finalized by the end of 2007. All of the judicial units and agencies make use of ICT in their daily processes. All the judiciary processes, transactions and trials transmitted to electronic environment .
 UYAP not only Integrated judicial institutions with each other but also with concerned institutions. So it is possible to reach every kind of information which is needed during processes. In the files criminal records have been accessed online and  current. The judicial record database has been integrated with  database of UYAP. The birth certificate registrations can also be accessed online and current by the courts and proceture's offices. All cases in courts can be accessible on line by judges. Land Registries and driver registers can be retrieved instantly at the beginning of the trials.
E-Government and UYAP Phases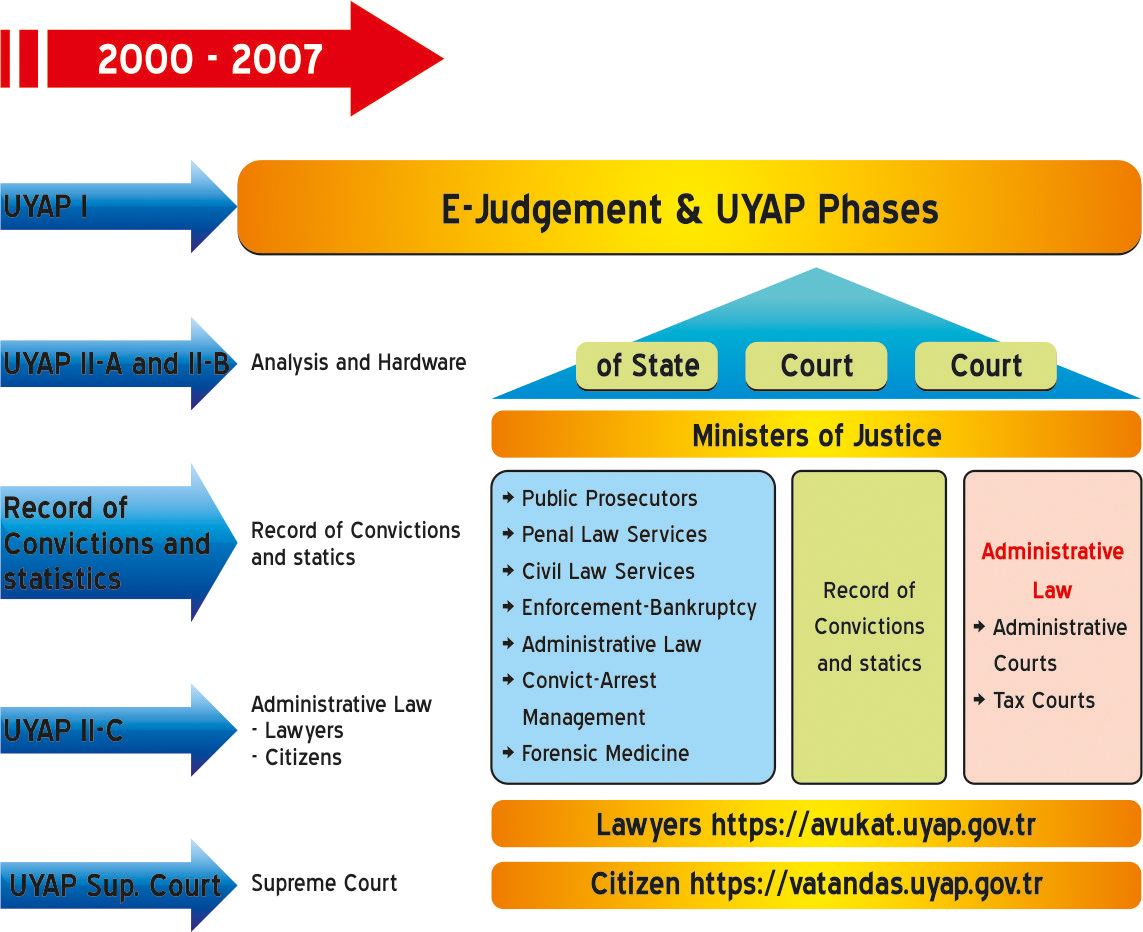 Actual Output and Gains / UYAP's acquisitions
      Speed and efficiency in judicial operations
      Integration with other justice agencies to enable information exchange with key stakeholders (police, gendarme, prisons, customs, etc.)
      Integration/interfaces with other state's information systems and provided Interoperability Opportunities
      Transparency in terms of accountability and data accuracy
      Data standards and data standardization to improve data quality and enable reliable operational and management reporting
      Saving in personal i.e. Those who would otherwise be engaged in data processing, clerical and administrative work
      Cheaper judicial services
      Data mining means that collection and dissemination of aggregated data for research for consisting of future plan
      System of alerts to identify users with some described alerts and notices
      Decrease administrative and judicial  so to enable workload practitioners to focus on their other priorities
      Obtain central financial control
      Save space with using electronic means instead of paper files
      Access to information and make transaction online, instant and secure
      Flexibility of  working hours so if staff wants to work independent from locality and offices
      Performance management through integrated management information
      Data repository and migration will be only in one system for that reason will not be data confusion and duplications
      Simplify process
      Self assessment by staff, they can monitor their works in to electronic means
      Provision of Clear Evidence on performance and quality for inspectors, every processes are logging by system
      Generate data for policy makers
      Prevention of corruption
Interchanging information between users (free lectern
SCOPES AND INTERFACES
The scope includes all functions required to support and enable transactions via electronic means between judicial institutions .The scope includes also fulfillment of finance and commissioning functions, human resources management, payroll, training management,  property management , asset administration and other supporting services
Flexibility of  working hours so if staff wants to work independent from locality and offices. Judges and prosecutors can access to the system from their houses by VPN.
Audio and video records systems for courts will be installed and be operated on this network.
Immediate procurement of necessary documents such as Criminal Record, Birth  and Land Registry, etc.. during trial, evaluation of judicial statistics (for citizen, lawyers, judges etc.), ensuring online judicial records, Criminal Records, online population records  are possible.
UYAP consists of these sub-systems:
Penal Law System , Civil Law System
 Administrative Law System
 Public Prosecutors Services System
 Court of Cassation System
 Probation System (have been producing)
 Verdict Support System
 Lawyer  Information System
 Enforcement-Bankruptcy System
 Convict-Arrest Management System
  Citizen Information System 
  Personal Management System, Financial and supply Management System
  Training Management System
  Document Management System
  Forensic Medicine System
  General Support System
DELIVERED HARDWARE
CABLE LAYING
All judiciary units were connected  with each other via sole central  network. This connection was provided through territorial lines and satellite. These connection types are the substitutes for each other. Cable was laid in 807 units to deliver 45.778 connection points across Turkey. There are 35.298 activated users in the domain. Satellite devices   were set up in 643 units in order to ensure continious connection .
TRAINING OF STAFF
When the project came to a certain phase, education effort was started by our Minstry. In this context, in order to let all the judges, Public prosecutors and other personnels learn using computer in the scale of Turkey, education was given using the institution's resources, in regions where it was inadequate. Education was given from the professional educational institutions. Later on, as being parallel to the places which were taken into operation, UYAP applications education was given to our 40.000 users. Besides this, 1700 persons were educated as expert users in order to train other remaining staff and technically back up all users.
DISTANCE LEARNING
Within the project of UYAP e-learning, a central control system for distance training was established for all users according to their roles and duties. 52.605 personnel have been given opportunity to train themselves through internet by using distance learning facilities until now.
DATABANK
Creating a Databank: Judges and prosecutors are given opportunity to reach updated legal sources on line by using databank. Namely, legislation, regulations, circulars, template texts, holding of the courts, jurisprudence, Circulars, Studies, examplary texts, template texts, sample decisions
·         Legislation
·         Directives
·         Sentences
·         Case law
·         Judicial essays
·         Template texts
·         Circulars etc.
 UYAP'S Web Mail Server
UYAP'S Web Mail Server Has 55.000 active USERS. The capacity of the server is 90.000. By means of virtual discussion forums within judicial organization about jurisprudence is in place, information sharing is enabled. Every user can share own experiences, problems and ideas with other users via free lectern and he can ask his occupational questions to others, he can find solutions for his problems
 FACILITIES FOR CITIZEN AND LAWYER
 Lawyers and citizens can examine all their files, deposit their case fee, submit any document or claim and file a case to any court of Turkey through the Internet by using their e-signature. They can access and examine their case information via the Internet and learn the day fixed for the trial without going to courts. Huge workload of staff due to answering enquires of citizens in courts has been decreased significantly.
 According to the latest figures   63340 lawyers have been registered to the lawyer's portal, and 10214 of them use this system effectively. The usage of lawyer and citizen portal has been growm significantly as it allows lawyers and citizen to pay court fees on line and file their suit without having to go to the court in person and pay for the fees by cash.
Citizens and lawyers can access their files and accomplish every kind of judicial transaction by using internet (citizen and lawyer portal) without going courts such as litigate a claim, examine the files and deposit a case fee.
SMS INFORMATION SYSTEM 
The SMS judicial information system provides an outstanding service for the citizens and lawyers which enables them to receive SMS messages containing legal information such as ongoing cases, dates of court hearings, the last change in the case and suits or dept claims against them. Therefore, they can be instantly informed by SMS about any kind of legal event related to them without going to courts. A cooperation agreement has been signed with the GSM operators in order to establish this system that makes it possible to send SMS to the concerning parties' mobile phones. This system aims to automatically inform all related parties of cases when any legal event, data or announcement (which has to be sent parties) realized by the judicial units such as courts, public prosecutor offices and enforcement offices. Sending a SMS does not replace official notification as it provides information to the parties so that they can take necessary measures in time without delay in order to prevent loss of legal rights.


SMS information system was put into practice in 01.04.2008. National Judicial Informatics System's ( http://www.uyap.gov.tr/english/index.html) infrastructure is used for this system which is a nationwide central e-justice system providing fast, reliable, and paperless judicial system. Thanks to this system, as soon as judicial authorities make any legal action with their roles in National Judicial Informatics System, related parties are automatically informed by a SMS. The nationwide obligation of using citizen unique ID number in every process is one of the features making it possible to implement this system. This is not a manual working system as it works automatically with specific software that prevents additional costs. This is a server based project set up on Oracle database in Java platform.
There are two types of SMS services. The first one is through basic query of the user for single use, and the second is subscription for prompt notification of every action. It is completely free to subscribe this system by sending SMS to 4060 containing citizen ID number and the phrase of "ABONE" (SUBSCRIBE). After being subscribed, in order to provide the continuity of the service and prevent unnecessary usage, citizens are charged with the only 7 SMS fare, which is less than a cost of public transportation to go courts.

LAWYERS SMS INFORMATION SYSTEM
Lawyer can subscribe to lawyer SMS information system by writing their national ID number and "AVABONE" to text part of their mobile phones and sent to 4060. Lawyers can also determine some of the files of them and content which they want to be informed by using lawyer portal enabling them to follow only some stages of a specific case.
The number of citizens using this system has reached 81.742 and nearly 500 citizens are being daily added in recent days. The number of lawyer benefiting is 1808. The total sent messages has amounted to 1006200 and daily sent SMS is nearly 1000. The number of daily SMS instead of legal summons sent by the courts or public prosecutors to the citizens is nearly 2000.
DECISION SUPPORT SYSTEM
With the Decision Support System, procedural mistakes are reduced to a minimum level. The aims of this facility are to prevent procedural errors during legal proceeding, to minimise other possible errors, to provide accuracy and speed to the legal proceedings and to accumulate public trust in justice . (1350 warning have been produced in the system till this time and they are presented for the use of the users.)
In every stage of investigations, especially during the hearings, the system may suggest some proposals to the users whenever they request or may warn the users in order to prevent basic judicial errors. Notices in labels on the screen can suggest some proposals or recommend some jobs to the users whenever they want  or at important situations by evaluating data files. Warnings can also be done in order to prevent basic judicial errors. Owing to this it is expected that there can be 80 % decrease  in the number of cases returned from supreme Court becouse of proceeding error. For example many fugitives were caught thanks to this system. Because the system warns users by pop up on the screen  if any fugutives' data is entered to the system.
Warrants about fugitives can be sent to all units of judiciary in a very short time and it became very easy to follow and apprehend them.
DOCUMENT MANAGEMENT SYSTEM
The Document Management System (DMS): Exchange of the electronic documents between the provinces and centre has been started. At present, all kinds of data, Information, documents flow in documentation management system between  MoJ and  other units electronically. Announcements, circulars, opinions, resignition and employment letters of the personnel, in additional the data flow and all sorts of communications of the Legal Jurisprudence, Administrative Jurisprudence and Justice Commissions with the Ministry are realised with the UYAP.
With our document management software, all documents are just a few clicks away.  Judicial units use that system to get documents online and to store and manage them. All bureaucratic procedures and formal writings made in the electronic environment, thereby avoiding delays and reducing mistakes, especially those related to codes of procedures, as well as ensuring some degree of transparency
UYAP SYSTEM CENTRE AND DISASTER RECOVERY CENTRE
In establishment of the system centre, magnitude of the system, the speed of technological change,  targets for the system upgrade, processes of guarantee for the system, costs of the the services and maintenance after guarantee have been taken into account.  It is the unique in the judiciary world in europe in terms of capacity and capability according to IBM AND ORACLE which are the experts in this area. The capacity of the centre is sufficient for more than seventy thousand users and it can be upgraded when needed.
MAGNITUDE OF THE SYSTEM
All over the Turkey, 133 Heavy Penal Court Centres, 25 Administrative Regional Courts, 575 small county courts and the Penitentiary and Detention Houses have been rolled out until now. All of the judicial units and agencies make use of ICT in their daily processes.

There are currently 47.439 users (judges, prosecutors and other staff) doing their all judicious job by using system and this number has been rising day by day.

All units have carried out their all processes via UYAP from the beginning of dissemiation  (26.04.2004) and 10.140.265.232 documents and 57.240.073 files have been entered via UYAP until now. In all of the units taken into operation, nearly more than 1.000.000 new documents are being entered to the system every day.

The number of documents has been exceeded more than 10 billion and nearly 200.000 new files are being added everyday

The number of e mail account is 90.000 and there 55.000 active e mail users in the system and 250.000 e mails are being processed everyday .

37.710 lawyers have been registered to lawyer's portal using this system actively.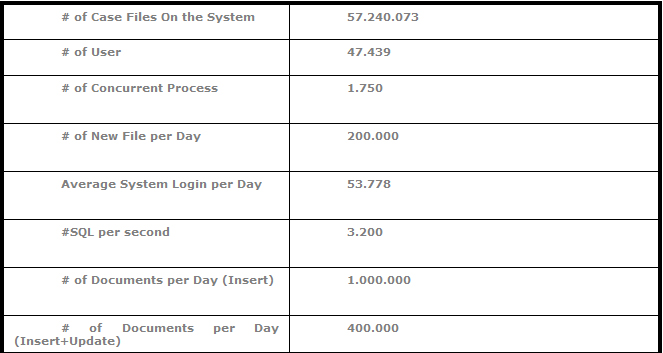 Some statistics
| | |
| --- | --- |
| Number of UYAP User at 2006 | 10.012 |
| Number of UYAP User at the beginning 2007 | 27.806 |
| As of now number of UYAP user | 48.615 |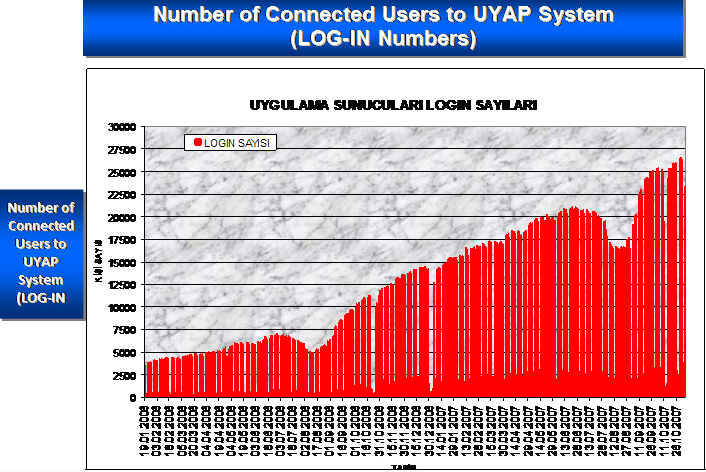 COMPARISON TABLES BEFORE AND AFTER UYAP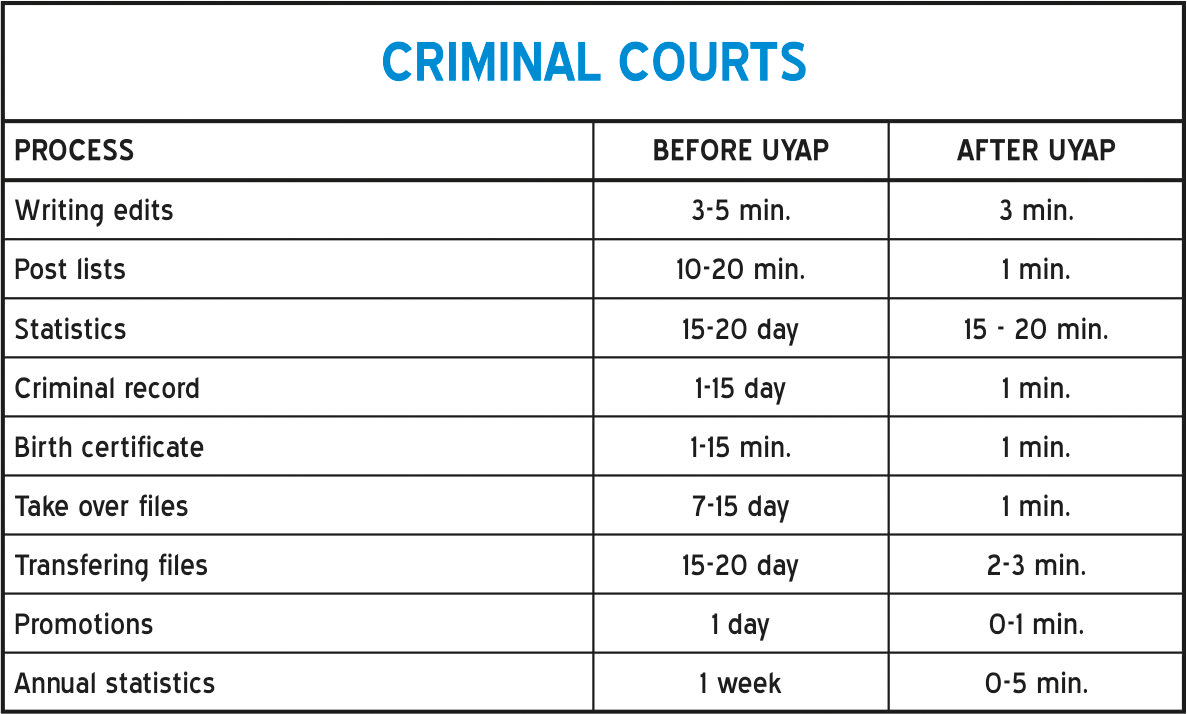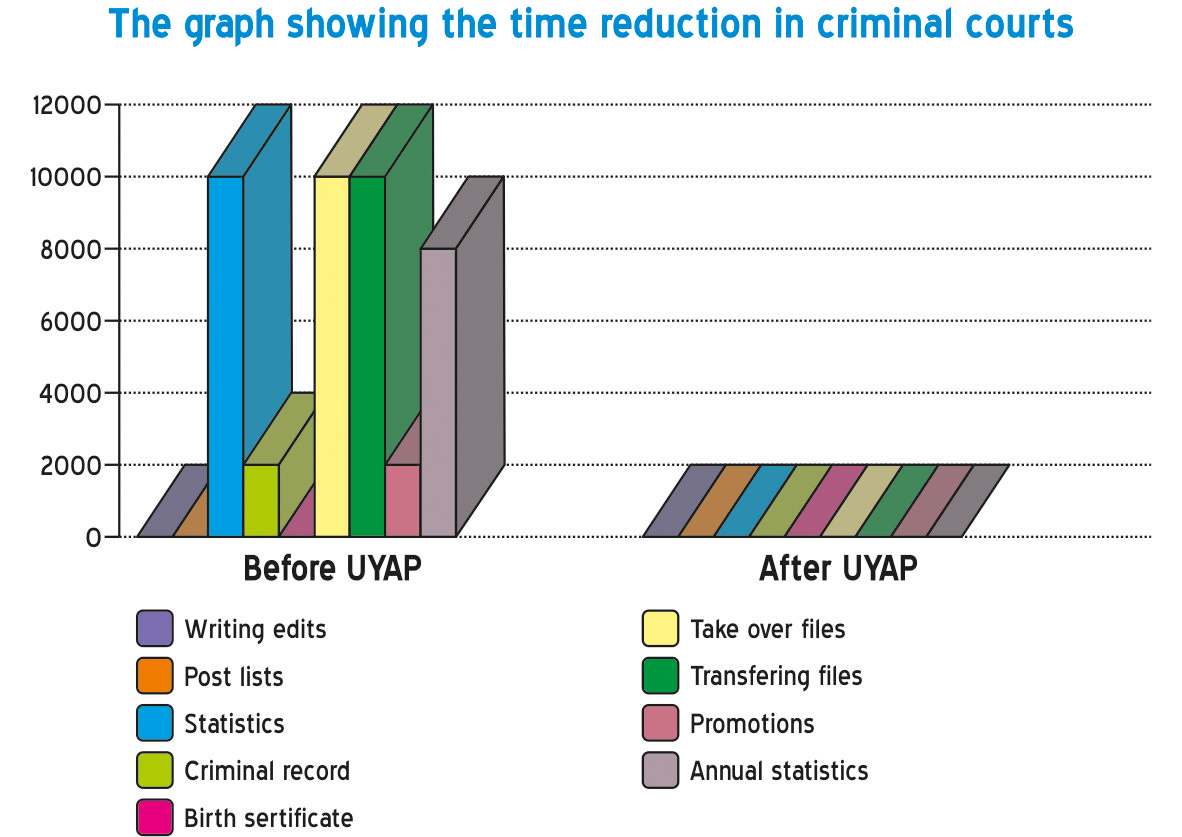 SECURITY
Contractor of the UYAP, HAVELSAN  has the following Quality Certificates and implemented them in UYAP system:
•     W CMM (Software Capability Maturity Model) Level 3 Certificate
•     TS-EN-ISO 9001 Quality System Certificate;
•     AQAP-150 NATO Quality Assurance Certificate for Software
•     AQAP-110 NATO Quality Assurance Certificate for Design, Development and Production.Besides, HAVELSAN has the NATO Secret and National Secret Facility Security Certificates, that are mandatory for the defense companies in Turkey.
•     In additional these certificates MoJ want to obtain soonest  for UYAP    ISO 17799 Standard and ISO/IEC 15408 CC Standard. Therefore MoJ is in preparation.
•     In UYAP SSL security structure and diigital signature are used. Therefore, electronic sign has been implemented in recent days and online case have just began. For the item   privacy articles on protection of the private data have been included in the new Turkish Penal Code. Moreover a firewall has been installed to the central system against viruses and other attacks for the benefit of users. Furthermore antivirus programmes have been installed to the users computers and to the servers.
SOFTWARE
•   In UYAP, the Java programming language has been used. Because MoJ has decided that java programming language is mature, robust, and versatile. According to our technical staff, as generally accepted, Java programming language technology has become  in allowing developers to:
•   Write software on one platform and run it on practically any other platform
•   Create programs to run within a web browser and web services
•   Develop server-side applications for online forums, stores, polls, HTML forms processing, and more
•    Combine Java technology-based applications or services to create highly customized applications or services
•   Write powerful and efficient applications for  low-cost consumer products, and practically any device with a digital heartbeat
•   Copyright of the software of UYAP is belonging to MoJ.
BENEFITS OF UYAP
Speed and efficiency of operations: UYAP created  fast, secure and efficient information system enabling the appropriate sharing of information across the wider Turkish judicial services by transfering key business processes of the judicial system into central electronic means. Instructions to other courts in order to collect evidence can be instantly sent and received on line. Access to information and make transaction online, instant and secure.
All documents, processes and files are standardised: Before UYAP courts and other  judicial units have being writen the writs one by one. After  UYAP similar writs are being writen through stencils. That is the one of the significant impact of the case in terms of benefits and costs. So the employees save time and effort, courts and other units save personel. Due to standart and ready forms, all the data are filled automatically into the documents like instructions, indictmans, hearing minutes, decision and others so as to finish cases faster and more efficient and not to wait for days. It enabled court staff to produce common form documents without having to type each of them out one by one. It is nearly saved on labour force by 30 % In the past it took so many times to prepare all the documents during the case or hearing but now it takes only minutes and it provide us speed and reliance.
Transparency in terms of accountability and data accuracy: All takeover files from previous year can be prepared within instantly. Easy and fair dispatch of the files and works of courts and enforcement units is ensured. For example, in the courts taken into operation, delivery bureaus have been taken into operation and collection of charges and duty distributions which are carried out hand by hand before are now carried out by the system as to the objective criteria determined in an electronic environment.
Economical judicial services: UYAP reduced the clerical, administrative and communications costs which would otherwise be incurred in manuel and paper- based system. With the on-line connection of courts, expenses of bureaucracy and postal costs are removed. UYAP reduces in staffing and uses the personal most effective.
Ministry of Justice issues a periodical, a monthly bulletin about Turkish judicial legislation. The copies of the said bulletin amounting to 13.000 copies were being sent to all Turkish judicial units including lawyers,bar associations,etc. A recent policy change has led to a an important saving in the budget of the judiciary. Thus some 400.000.- New Turkish Liras  (NTL) will be saved. Indeed, since the recent decision, bulletin concerned will be published through Ministry's web site. Hence,  MoJ will not send 12.000 copies of  bulletin per post.  And some 370.000.- NTL will be saved. Before UYAP could be reached to old issues of the Judicial Legislations Bulletin only per department of the Education of MoJ and that is being taken up time. After UYAP to the that issues  can be accessed via MoJs web site online. And can be carried out a search  and founded among the old informations or issues soonest.
Obtain central financial control: The payments of the experts and taxes can be controlled in a more reliable way. Now the budget of the judicial units are prepaired by UYAP  and budgetary control is made via UYAP online and momentary. Determination, audit and expenses are pursuitted on a central database with the accounting system in UYAP.
Prevention of corruption: Destruction of files are impossible becouse of electronic recording and all the activities are logged in the system
Performance management through integrated management information: To provide the capability to measure performance and report on the effectiveness of Turkish judicial services in terms of such performance indicators are defined by Government and stakeholders. The data required for this would be captured and made available through the operational UYAP system. The performance of the personnel can be followed via the electronical environment.
Fulfill inspections in to electronic means: After UYAP inspections of the judicial would be per UYAP online and remote. That possibility will be bring in time, costs etc. Goverment will be save from travelling expenses which are made by inspectors and staff number who are work as a inspector. Provision of Clear Evidence on performence and quality for inspectors, every processes are logging by system
Data mining in judicial field: Data mining means that collection and dissemination of aggregated data for future plans. By this way it became easy to provide a research capability, to evaluate the impact of offender-crime assessment tools and programmes and to assess the effectiveness of interventions designed to reduce crimes. Evaluation of statistics (papering crime maps, data mining) will be possible. The users who have the authority to gain access to these data, can see those data simultaneously and currently and can make processes.
Simplify process:
Before UYAP promotion (being raised to a higher rank)  of the employees are being notified with one by one arranged notifications. After UYAP that notifications are notified to relevant units with in a single copy which in a one list arranged.

Decrease administrative and judicial workload so to enable practitioners to focus on their other priorities. The processes that takes hours or days can be done only in minutes by UYAP.

Furthermore, the figures as to the files, selected spesific crimes and the workload of units can be obtained in much more swift way nationwide

Instructions to other courts or other public offices in order to collect evidence can be instantly sent and received.

Serving term of offenders can be calculated automatically by considering all related enforcement laws in detail. Miscalculations, discrepancies and waste of time are prevented.

Forms and tables prepared by judicial units at the end of the day or year in order to takeover files were being lasted hours and weeks. But now, all this documents can be prepared within second and minutes in UYAP . It caused 25 % saving on working time of staff and it prevented overtime.

Despatch of the files and works of courts and enforcement units are being done and monitored easily and fairly by UYAP .For example, in the courts taken into operation, delivery bureaus have been taken into operation and collection of charges and duty distributions which are carried out hand by hand before are now carried out by the system as to the objective criteria determined in an electronic environment

.
  CENTRAL FILLING SYSTEM
UYAP have central filing system. Structure is central.All servers are in Ankara. All data flow in to central units. That provide (money) saving, hardware saving and personnel saving. We offer not federal system. Forasmuch as that need more money, hardware and personel.
Data standards and data standardization to improve data quality and to enable reliable operational and management reporting. All of the data are processed to the UYAP database momentary. Thus all of the data are integrated, factual, reliable and current. The Software was designed in complete flexibility to enable the convenient usage in all courthouses whatever the size, type of work or intensity may be. Data repository and migration will be only in one system for that reason will not be data confusion and duplications
Benefits:
To make rapid, more accurate, better quality transactions,

To gather disorganised data in one place and to provide their transmission,

To realise all kinds of correspondence and communications within the area of informatics.

Healthy and rapid transmission of data and statistical information at the Central and Provincial Organisations.

Making use of the database formed by saving the produced work patterns and building verdict support systems.

Reaching the legislation even during trails.

Spontaneous submissions of directions and writs to relevant contacts.
Surveillance of behaviour and productivity of the personnel from the Centre, Office environment without 'paper fuss', evaluation of statistics (papering crime maps, data mining) are possible.
Constrains
·         Technological constraints
·         Managing the IS/IT function – which models to use?
·         Effective use processes
·         Training, behaviours etc.  Integrate information capture & use into operational business processes
·         Flexible & re-usable IT infrastructure – what are the available IT infrastructures?
·         The most important hinder in this way is the resistance that the users show against a new way of life. In order to break this resistance the necessary laws support should be constituted, public opinion support should be provided by making conscious campaigns.
METHOD OF DISSEMINATION
In central courts, UYAP is disseminated by a private company called HAVELSAN. But   small county courts was rolled out by our experienced users chosen from central courts. They were trained in ANKARA and they work in their units in order to roll out UYAP in all dependent units. They solve the problems immediately that they encounter in the courts and give training to the other staff.  
INTEROPERABILITY OPPORTUNITIES
In UYAP it was planned to set up integration with the other related public institution and organizations in the extent of project. In this extent first of all, integration was provided with the MERNİS and Record of Convictions Database and it was made certain for our users to give opportunity of cross examination of identity and criminal records in seconds. These integration continued with the other Projects such as POLNET (Police, Gendarmerie) and TAKBİS (Land Registry). Driver's license and land registries can be interrogated by judges during the hearing instantly. Prosecutors also can cross-examine the driver's license and land registries according to their limited authority. On the other hand posts can be followed up by courts users instantly. System has integration between Post Information System. Besides arrest warrants in default can be pursued by courts automatically and online. When system determined a sentence in absentia then alerts the users in the instant and due notice is under way.  
PROJECT TEAM
The IT Department, within the MOJ, has the duties and responsibilities to establish, operate, and maintain the informatics system in cooperation with the units of the MoJ
Project Team who works in IT department consists of Head of department (Mr. Ali Kaya), 15 examiner judges and nearly 250 personnel (computer-engineers, electronic-engineers, help-desk and programmers.) in central unit.
There are also 371 expert users, 592 technical officer and 159 responsible UYAP Judges and Prosecutor in provincial units.
In due course, all hardware has been upgraded and also software is improved and updated by the own project team of IT department itself
Assistance for e-Justice to the other Countries 
•    The UYAP database can be connected to the databases of the other states and can form a broadened network Achieving this goal will result in secure and swift transition of international requests such as rogatory letters, extradition matters and transfer of sentenced persons.
•    Apart from these, UYAP case and document management system and word processor software were designed to be independently used by other judicial systems. So, it is completely possible to import these main components to other countries as they have already been transferred other related institutions in Turkey.
 Turkey's Possible Contribution
 1.       Development of e-Justice Strategy
2.       Development of e-Justice ICT Projects
3.       Development, designing and implementation of national "e- Justice Information Systems"
4.       Development, designing and implementing "Document Management  System"
5.       Development and integrating "judicial records" and "judicial data".
6.       Development, designing and implementing "judicial data mining".
7.       Development, designing and implementing "video and audio recording" and "video conferencing systems" 
8.       Digital Security Solutions for e-Justice
9.       Furnishing consultancy service for e-Justice information service and system.
Awards and Quality
UYAP won in 2004, 2008 and 2008 TÜSİAD and Türkiye Bilişim Vakfı (TBV) e- Government rewards. In 2008, UYAP has received a special mention in ''Crystal Scales of Justice'' awards which is organised by the Council of Europe and the European Commission. Uyap has received its gold medal because of being selected as a laureate in the computerworld honors program held in Andrew w. Mellon auditorium in Washington dc in 01.06.2009 and honoured as one of the most successful five finalist in the area of e-government projects in the world. In addition it has become the only e-justice project among the finalists. These awards were given to UYAP for enhancing the quality of judicial information services for the public, creation of transparent and efficient administration of justice and the contribution for the transformation of information society.